PMDS Self-priming type Magnet coupling type
RoHS
PMDS-421 PMDS-581 PMDS-641,641B PMDS-643,643B PMDS-1561,1561B PMDS-1563,1563B PMDS-2571 PMDS-2573 PMHS-1511B2M PMHS-1513B2M

Characteristics
●High performance and energy saving
Compared to the conventional products, the pump efficiency increased by 35%. This type became smaller, lighter, 5-dB quieter and 50% reduction in vibration.
●Long-life and no liquid leakage
There is no liquid leakage due to no shaft seal part. As made of resin, this type is appropriate for transporting highly corrosive special liquid.
●Freely detachable self-priming tank
A freely detachable self-priming tank design. Self-priming and non-self-priming can be selected according to application. Though it is easy to switch between a self-priming pump (PMDS type) and a non-self-priming pump (PMD type), contact us before switching.
●No reduction in max. self-priming height due to liquid temperature
Its innovative self-priming design does not cause the maximum self-priming height to be reduced by liquid temperature.
Application
●Seawater circulation and chemical solution circulation (some excluded)
●Coolant circulation, fish preserves and seawater plants
●Hydroponic culture and plant factories
Caution
※Chemical resistance
Chemical resistance must be verified before using the products by checking whether an intended purpose can be achieved with a preliminary test, etc.
※In order to use cold water, apply lagging materials and/or heat-insulating materials as measures against dew condensation if necessary.
Corrosion resistance Table
| Fluid | Criterion |
| --- | --- |
| Sodium hypochlorite | Up to 5 ppm of concentration |
| Caustic soda | Up to 5% of concentration |
| Hydrochloric acid | Up to 30% of concentration |
| Sulfuric acid | Up to 10% of concentration |
| Citric acid | Up to 10% of concentration |
※The above corrosion resistance table shows the standards when a fluid temperature is normal(0 ~40 ℃).
Part name and material
(Note 1)Material of water contact part
     Classification
Part name
2
Casing


Impeller


Pump shaft
Thrust block
Pump bearing
O-ring
PP(with glass)
PP(with glass)
Alumina ceramics
Alumina ceramics
PTFE
FKM
Performance Curve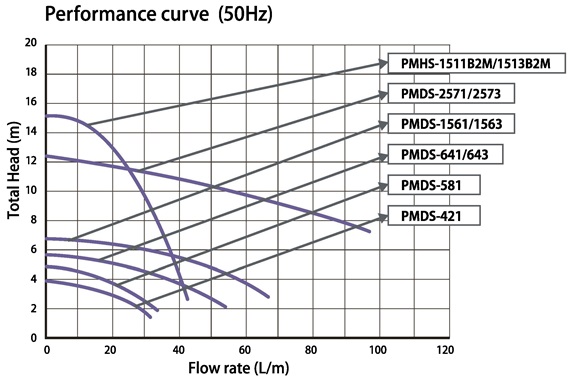 Specification