PSPZ Mechanical seal type
RoHS
50PSPZ-22033A-E3 65PSPZ-37033A-E3 80PSPZ-37033A-E3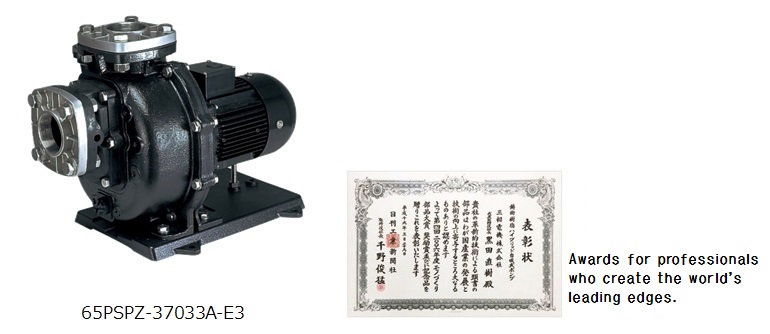 Characteristics
●Super low noise
Its hybrid design(resin casing with cast-iron coating on the utside surface)allows the sound absorbing performance of cast-iron to take effect,resulting in super low noise.
●High efficiency and energy conservation
The one-piece optimized design of motor and the pump realized high efficiency and energy conservation.
●Long life and high reliability
Materials of excellent corrosion resistance are used in the liquid contact part.
The pump casing has the hybrid design in which the cast-iron outer shell and the resin inner liquid-contact part are integrated for high pressure resistance.
The design of the shaft seal part was established in the conventional product.These factors improvd its reliability.
●High maintainability
Its maintainability was improved by employing a design for easy shaft fixing when the impeller is removed/installed for mechanical seal replacement.
Application
●Coolant circulation,seawater circulation
●Various machine sets,ship,fish preseres and seawater plants
●It fits in a small size ship without any conditions of setting place because of small and light size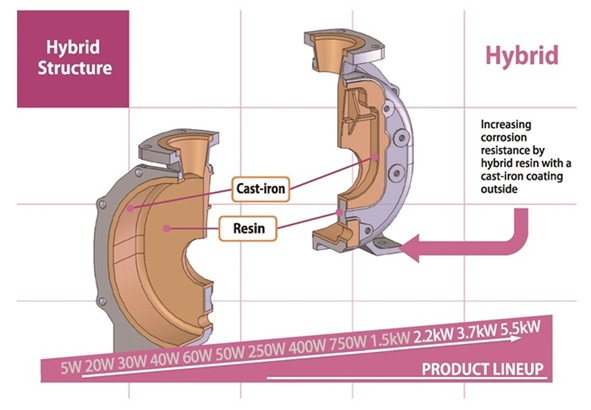 Specification
Type Ⅲ Cast-iron+Resin(hybrid)